Premium Hot Foil Stamping Machines at Competitive Prices
Increase the efficiency of your engraving and stamping operations with a dependable hot-stamping machine from OR Printer USA. We are an industry-leading choice for high-quality hot foil stamping machines. Browse our current models to discover the most dependable stamping machines on the market.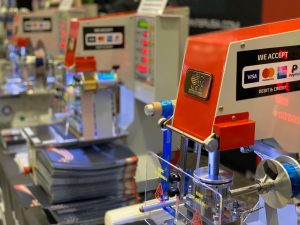 What Is Hot Foil Stamping?
Hot foil stamping is a printing method that involves transferring pre-dried inks or foil to the surface of a material using heat and a mold or die.
The foil used in hot stamping applications is often shiny and metallic. They mimic the look of precious metals, such as copper, silver, and gold.
You often see foil stamping on book covers, stationery, and other paper products where an elegant design is needed. However, hot foil stamping is suitable for use on a variety of materials:
Paper, Plastic, Rubber Leather, Fabrics, etc.
Hot foil stamping allows you to mark or decorate an endless list of everyday products. You can easily stamp words, logos, and images on boxes, flyers, invitations, leather products, and much more.
How Does the Hot Stamping Process Work?
If you do not already use hot foil stamping, you may want to know about the process. To start stamping or embossing, you need a hot foil stamping machine, foil, a die, and the material that you want to stamp.
The foil stamping die uses a negative image of the image that you want to stamp. The die is typically made from zinc, copper, magnesium, or brass.
After selecting the die, it is mounted to a press in one of our hot stamping machines. The product that you want to stamp is positioned below the die. Foil is placed between the die and the product. The die is then heated to a high temperature.
The OR Printer 5020E and 5040E models include digital temperature control with temperatures up to 572 degrees Fahrenheit. After reaching the right temperature, the die is pressed down against the product. The combination of pressure (up to 3,300 pounds) and heat transfer the foil to the item that you want to stamp.
Discover the Convenience of an OR Printer Hot-Stamping Machine
You can rely on our machines to handle your tasks with ease, making stamping more accessible for everyone. Our machines are more compact, energy-efficient, and user-friendly compared to the competition.
You do not need any previous experience to produce beautiful foil images or lettering on your products. The simple menu controls allow you to easily adjust the temperature, timer, and other settings. Our stamping machines can also store up to 20 images, so you can quickly switch back and forth between projects.
No matter your stamping needs, we are a trusted choice. OR Printer USA is proudly based in Texas. We have over 34 years of experience working with hot stamping machines and dealers in over 12 countries.
WORKING IN AN INDUSTRY AS REVOLUTIONARY AS HOT FOIL STAMPING
We make sure that our own approach is just as innovative and cutting-edge!
Here is some Words from our clients
Thanks Love the imprinter!
I've never experienced a machine like this before, this is awesome.
I'm looking forward to getting my second machine, I just love it.
Contact Us for a Price Quote on a Hot Foil Stamping Imprint Machine
OR Printer USA hot foil stamping machines allow you to produce clean, crisp images and lettering on a diverse range of items. If you want to enhance the appearance of your products, order your stamping machine. Contact us today to get a price quote.